English Extracurriculars
A hallmark of the English department is that we extend learning beyond the classroom in a number of ways. These opportunities are designed to engage you. They're also designed to make you a better writer and researcher and to better prepare you for graduate school or a job.
Here are a few we offer:
Sigma Tau Delta Honor Society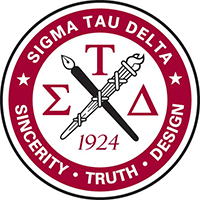 Sigma Tau Delta is the international English honor society. The society strives to:
Confer distinction for high achievement in English language
and literature in undergraduate, graduate, and professional studies;
Provide, through its local chapters, cultural stimulation on college campuses and promote interest in literature and the English language in surrounding communities;
Foster all aspects of the discipline of English, including literature, language, and writing;
Promote exemplary character and good fellowship among its members;
Exhibit high standards of academic excellence; and
Serve society by fostering literacy.
With more than 800 active chapters located in the United States, Europe, the Middle East, and the Caribbean, there are more than 1,000 faculty sponsors and approximately 9,000 members inducted annually.
The Poetry & Fiction Series
For more than four decades, the English department has brought internationally acclaimed writers to campus as part of the Poetry & Fiction Series. As part of the series, these authors read from their work and often work directly with students in creative writing classes. In addition, the department sponsors the Poetry & Fiction Contest during which students read their work to an audience of peers and professional judges.
Independent Studies and Senior Theses
English majors often study independently with professors through tutorials, independent studies, and senior theses, where students work one-on-one with a professor on a topic of their choosing. Students who select the thesis option work collaboratively with a professor to complete a significant research project.
Department Awards and Recognition
We confer several awards upon our outstanding majors. These include an award to the senior scholars with the highest quality point average in the English and Creative Writing concentrations, the Paul van K Thomson Award, and the René Fortin Essay Contest Award.