English Department
The English department at PC has something for everyone — not just future teachers and college professors, but anyone who loves to read, think, and write. Led by faculty who are teachers, scholars, and writers, our courses cover the full range of literature in English — from the medieval adventures of Chaucer's pilgrims to the vibrant novels of Toni Morrison and beyond. You will engage with brief but meaning-packed poems like Emily Dickinson's and with challenging and absurd plays like Samuel Beckett's. Mostly, you will read, write, and discuss because our classrooms are places where students and professors talk freely about the ideas, characters, and artistic choices they encounter.
We offer three bachelor's degree programs — English, Creative Writing, and Secondary Education. Each one is rigorous. Each one is engaging. Each one will enhance your ability to analyze, communicate, and research — important tools for any form of employment or graduate study.
We are committed to being an antiracist, antisexist, and antihomophobic department that cultivates and promotes diversity and inclusion. 
News and Events
Dr. Chun Ye's collection of stories, Hao, is forthcoming from Catapult in 2021.
She has published two books of poetry (Lantern Puzzle and Travel Over Water), three collections of poetry translations, and a novel in Chinese. She is the recipient of an NEA fellowship, a Sustainable Arts Foundation Award, and three Pushcart Prizes.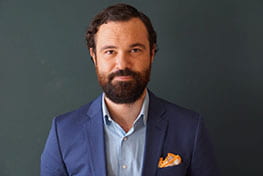 Poetry & Fiction Series on Tuesday, February 18, 2020
Stephan Delbos '05 is a writer living in Prague, Czech Republic, and Plymouth, Mass. His poetry, essays and translations have been published internationally. This event will be a poetry reading and discussion. All are invited. Refreshments will be served.
Editor of From a Terrace in Prague: A Prague Poetry Anthology (Litteraria Pragensia, 2011).
His play Chetty's Lullaby, about trumpet legend Chet Baker, was produced in San Francisco.
His play Deaf Empire, about Czech composer Bedřich Smetana, was produced by Prague Shakespeare Company in 2017.
His co-translation of The Absolute Gravedigger, by Czech poet Vítězslav Nezval, was awarded the PEN/Heim Translation Grant in 2015 and was published by Twisted Spoon Press.
Author of the poetry chapbook In Memory of Fire (Cape Cod Poetry Review, 2016), and the poetry collection Light Reading (BlazeVOX, 2019).
He is a founding editor of B O D Y (www.bodyliterature.com).
Prof. Chard deNiord, has published his 7th book of poetry, In My Unknowing, which is scheduled for publication on the 25th of this month.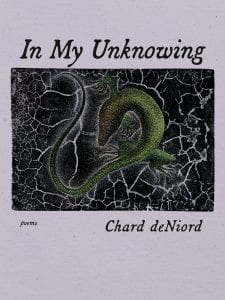 "In My Unknowing, we find ourselves in a world beheld by the spark of seeing, on the border of Platonic emission: a world of salt sorrow and red lust, coterminous with everything at once. To read these poems is to float at a holy distance over the earth, herein recognized as the heaven it has always been, as no other place would do for living forever. It is a world about to evanesce, but is as yet legible to us in these masterful poems, which are in themselves a species of musical awareness." —Carolyn Forché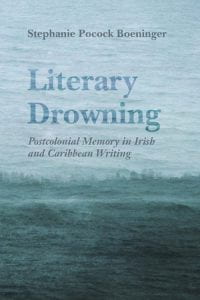 Prof. Stephanie Pocock Boeninger, Associate Professor of English has published, Literary Drowning: Postcolonial Memory in Irish and Caribbean Writing due out in April. As seen in Syracuse University Press.
"Stephanie Boeninger's Literary Drownings is both a triumph of original scholarship and a compelling read. Boeninger's penetrating critical vision produces a wealth of insights into the power and purchase of the trope of the drowning body on the literary imagination. This book resonates uncannily today when shocking images of drowned bodies regularly confront us as stark reminders of the geopolitical inequalities of our own time." -P.J. Mathews, University College Dublin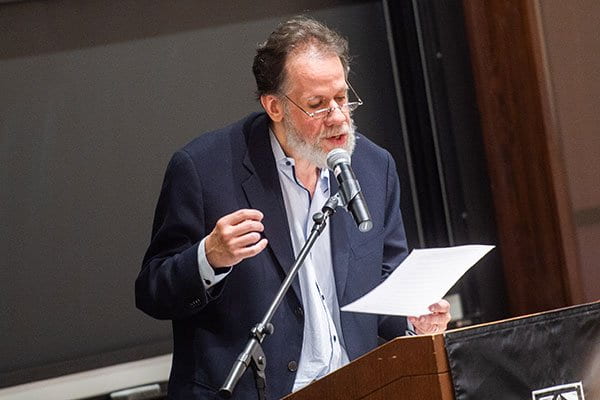 The Jane Lunin Perel Poetry and Fiction Series
On Wednesday, Nov. 6, Providence College was honored to welcome Martín Espada — the first Latino poet to win the prestigious Ruth Lilly Poetry Prize — to campus for the fourth annual reading of the Jane Lunin Perel Poetry and Fiction Series.
Watch the full recording of the reading, and view the album of event photos. We look forward to inviting you back to campus for future College events.
Prof. Chard deNiord appeared on New Hampshire Public Radio to remember NH Poet and Former U.S. Poet Laureate Donald Hall. He also spoke with Seven Days about his tenure as Vermont's Poet Laureate.
Prof. E.C. Osondu has won the BOA Short Fiction Prize for the manuscript of his short story collection Alien Stories. The recognition comes with a spring 2021 publication deal with BOA Editions, Ltd., as part of its American Reader Series. Professor Osondu is also featured in this episode of the @ProvCollege Podcast.
Dr. Russell M. Hillier, associate professor of English, was awarded Providence College's first Outstanding Faculty Scholar Award. The honor is given to a tenured faculty member who demonstrates the highest standards in research, scholarship, and contributions to his/her field. He is the author of two books, Milton's Messiah: The Son of God in the Works of John Milton (Oxford University Press, 2011) and Morality in Cormac McCarthy's Fiction: Souls at Hazard (Palgrave Macmillan, 2017), and his journal contributions include essays on John Donne, George Herbert, John Milton, Samuel Taylor Coleridge, John Keats, Fyodor Dostoevsky, and Cormac McCarthy.
Faculty Accomplishments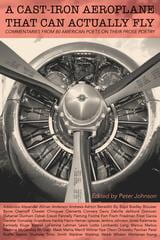 Peter Johnson, professor emeritus of English, edited an anthology of prose poetry entitled A Cast-Iron Aeroplane That Can Actually Fly: Commentaries from 80 Contemporary American Poets on Their Prose Poetry. Johnson is a critically acclaimed author of several collections of poetry, short stories, and YA and middle grade novels. His book of prose poems, Miracles & Mortifications, received the James Laughlin Award from The Academy of American Poets. His first YA novel, What Happened, was awarded the Paterson Prize and was called the "most gorgeously written YA of 2007" by Booklist, and his middle grade novel, The Adventures of John Smith Jr., aka Houdini, was chosen as one of the best children's books of the year by Kirkus Reviews.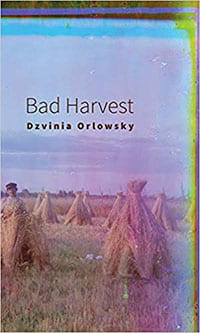 Dzvinia Orlowsky, an adjunct faculty member in the English department, had her poetry collection, Bad Harvest, named a Massachusetts Book Awards 2019 "Must Read" in poetry. Orlowsky also had a new poem sequence "The (Dis)enchanted Desna" selected by Robert Pinsky as this year's co-winner of the New England Poetry Club Samuel Washington Allen Prize. Orlowsky is a Pushcart Prize recipient and Founding Editor of New York based-Four Way Books. She has published six collections of poetry with Carnegie Mellon University Press. Bad Harvest was published in 2018 and her co-translation with Jeff Friedman of Polish poet Mieczyslaw Jastrun's MEMORIALS, with an introduction by Chard DeNiord, was published in August 2014.
Christopher Berard's book Arthurianism in Early Plantagenet England: From Henry II to Edward I was published in January 2019 by Boydell Press as volume 88 of its Arthurian Studies Series. Chris has published scholarly articles on related topics. In one of these pieces, he suggests that the "myth of Arthur's return" is a twelfth-century colonialist narrative that others the Celts of Brittany, Cornwall, and Wales. He has also written a pair of articles that analyze the literary and historical consequences of the Plantagenet use of Arthurian imagery during the Hundred Years' War.

Chard deNiord's book I Would Lie To You If I Could was published by University of Pittsburgh Press, 2018. I Would Lie To You If I Could contains interviews with nine eminent contemporary American poets (Natasha Trethewey, Jane Hirshfield, Martín Espada, Stephen Kuusisto, Stephen Sandy, Ed Ochester, Carolyn Forche, Peter Everwine, and Galway Kinnell) and James Wright's widow Anne, presents conversations with a vital cross section of poets representing a variety of ages, ethnicities, and social backgrounds. Chard is the poet laureate of Vermont and author of six books of poetry, most recently Interstate and The Double Truth. He also edited a book of essays and interviews with seven senior American poets (Galway Kinnell, Donald Hall, Maxine Kumin, Jack Gilbert, Ruth Stone, Lucille Clifton, Robert Bly) titled Sad Friends, Drowned Lovers, Stapled Songs: Conversations and Reflections on Twentieth-Century American Poets. deNiord is a professor of English and creative writing at Providence College and a trustee of the Ruth Stone Trust.
Tuire Valkeakari's book Precarious Passages: The Diasporic Imagination in Contemporary Black Anglophone Fiction was published by University Press of Florida (2017). Tuire analyzes the writing of Toni Morrison, Caryl Phillips, Lawrence Hill, and other contemporary novelists of African descent. She shows how their novels connect with each other and with defining moments in the transatlantic experience, most notably the Middle Passage and enslavement. Tuire Valkeakari is professor of English at Providence College and the author of Religious Idiom and the African American Novel, 1952-1998.
Russell Hillier's book Morality in Cormac McCarthy's Fiction: Souls at Hazard was published by Palgrave Macmillan (2017). Russell is the author of Milton's Messiah (2011) and has published numerous scholarly articles on William Shakespeare, John Milton, John Donne, George Herbert, Samuel Taylor Coleridge, John Keats, Fyodor Dostoevsky, and Cormac McCarthy.
Eric Bennett's book Workshops of Empire: Stegner, Engle, and American Creative Writing During the Cold War was published by University of Iowa Press (2015). Eric is the author of A Big Enough Lie, and his writing has appeared in A Public Space, New Writing, Modern Fiction Studies, Blackwell-Wiley's Companion to Creative Writing, The Chronicle of Higher Education, VQR, MFA vs. NYC, and Africana.