English Department
The English department at PC has something for everyone — not just future teachers and college professors, but anyone who loves to read, think, and write. Led by faculty who are teachers, scholars, and writers, our courses cover the full range of literature in English — from the medieval adventures of Chaucer's pilgrims to the vibrant novels of Toni Morrison and beyond. You will engage with brief but meaning-packed poems like Emily Dickinson's and with challenging and absurd plays like Samuel Beckett's. Mostly, you will read, write, and discuss because our classrooms are places where students and professors talk freely about the ideas, characters, and artistic choices they encounter.
We offer three bachelor's degree programs — English, Creative Writing, and Secondary Education. Each one is rigorous. Each one is engaging. Each one will enhance your ability to analyze, communicate, and research — important tools for any form of employment or graduate study.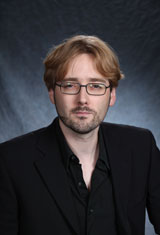 Outstanding Faculty Scholar Dr. Russell Hillier
On Tuesday, February 13, the Office of Sponsored Research & Programs and the Faculty Scholar Selection Committee hosted a fireside chat with the 2017 Outstanding Faculty Scholar Dr. Russell Hillier. From Milton and Shakespeare to his studies on morality in present day novels, Hillier answered questions posed by fellow English department colleague Dr. Robert Reeder and talked about his research and what sparked
his interests in Literature.
The Jane Lunin Perel Poetry and Fiction Series Second Annual Reading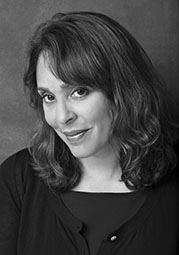 The second annual reading of the Jane Lunin Perel Poetry and Fiction Series was held on Thursday, November 9, 2017 in the Ruane Center for the Humanities.  Natasha Trethewey, a two-time U.S. Poet Laureate who has published five collections of poetry, read selections from her work.  Professors deNiord and Perel offered remarks followed by a reception.

About the Jane Lunin Perel Poetry
and Fiction Series
Professor emerita Jane Lunin Perel '15Hon. arrived to teach English and creative writing at Providence College in 1971. She has stretched students' creative capacities ever since. She also led the initiative to establish the College's Women's Studies Program in 1994, serving as its first director, and was devoted to it and the Department of English until her retirement in 2014.
The annual Jane Lunin Perel Poetry and Fiction Series "celebrates a life in which poetry and fiction synthesize the imagination with the Divine."
News & Events
Russell Hillier Receives Outstanding Faculty Scholar Award
Dr. Russell M. Hillier, associate professor of English, has been awarded Providence College's first Outstanding Faculty Scholar Award. The honor, which will be awarded annually, is given to a tenured faculty member who demonstrates the highest standards in research, scholarship, and contributions to his/her field.  He is the author of two books, Milton's Messiah: The Son of God in the Works of John Milton (Oxford University Press, 2011) and Morality in Cormac McCarthy's Fiction: Souls at Hazard (Palgrave Macmillan, 2017), and his journal contributions include essays on John Donne, George Herbert, John Milton, Samuel Taylor Coleridge, John Keats, Fyodor Dostoevsky, and Cormac McCarthy.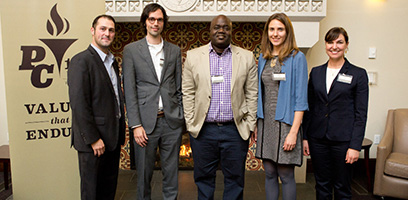 Providence College Hosts Millennial Authors Panel
A panel of Providence College alumni discussed their paths to becoming published authors during a "Published & Proud – Millennial Alumni Authors" discussion. Panelists for the discussion were Alison Espach '07, an assistant professor of English at PC and the author of The Adults, Michael Hartigan '04, the author of the psychological thriller Stone Angels, Matt Weber '06, the author of Fearing the Stigmata: Humorously Holy Stories of a Young Catholic's Search for a Culturally Relevant Faith and Operating on Faith: A Painfully True Love Story, and Emily Benfer '99, the founder and director of the Health Justice Project at the Loyola University Chicago School of Law and the author of several journal articles. The panel was moderated by PC associate professor of English E.C. Osondu, whose literary career includes the 2009 Caine Prize for his story entitled "Waiting" and his highly regarded collection of short stories entitled Voice of America.
Faculty Accomplishments
Tuire Valkeakari's book Precarious Passages: The Diasporic Imagination in Contemporary Black Anglophone Fiction was published by University Press of Florida (2017). Tuire analyzes the writing of Toni Morrison, Caryl Phillips, Lawrence Hill, and other contemporary novelists of African descent. She shows how their novels connect with each other and with defining moments in the transatlantic experience, most notably the Middle Passage and enslavement. Tuire Valkeakari is professor of English at Providence College and the author of Religious Idiom and the African American Novel, 1952-1998. 
Russell Hillier's book Morality in Cormac McCarthy's Fiction: Souls at Hazard was published by Palgrave Macmillan (2017).  Russell is the author of Milton's Messiah (2011) and has published numerous scholarly articles on William Shakespeare, John Milton, John Donne, George Herbert, Samuel Taylor Coleridge, John Keats, Fyodor Dostoevsky, and Cormac McCarthy.
Eric Bennett's book Workshops of Empire: Stegner, Engle, and American Creative Writing During the Cold War was published by University of Iowa Press (2015).  Eric is the author of A Big Enough Lie, and his writing has appeared in A Public Space, New Writing, Modern Fiction Studies, Blackwell-Wiley's Companion to Creative Writing, The Chronicle of Higher Education, VQR, MFA vs. NYC, and Africana.
Chard deNiord named Vermont Poet Laureate. Chard succeeded Sydney Lea as Vermont Poet Laureate on November 2, 2015. Poet Laureate is a four-year appointment made by the Governor based on the recommendation of a distinguished panel. Read more.