English Department
The English department at PC has something for everyone — not just future teachers and college professors, but anyone who loves to read, think, and write. Led by faculty who are teachers, scholars, and writers, our courses cover the full range of literature in English — from the medieval adventures of Chaucer's pilgrims to the vibrant novels of Toni Morrison and beyond. You will engage with brief but meaning-packed poems like Emily Dickinson's and with challenging and absurd plays like Samuel Beckett's. Mostly, you will read, write, and discuss because our classrooms are places where students and professors talk freely about the ideas, characters, and artistic choices they encounter.
We offer three bachelor's degree programs — English, Creative Writing, and Secondary Education. Each one is rigorous. Each one is engaging. Each one will enhance your ability to analyze, communicate, and research — important tools for any form of employment or graduate study.
News and Events

A reading by Kate Hennessy, Writer and Granddaughter of Dorothy Day
Wednesday, October 17, 7:00 pm, Ruane Center for Humanities Great Room



Kate Hennessy is a writer and the youngest of Dorothy Day's nine grandchildren. Her work has been included in Best American Travel Writing. She is the author of Dorothy Day: The World Will Be Saved By Beauty and, in collaboration with the photographer Vivian Cherry, Dorothy Day and the Catholic Worker: The Miracle of our Continuance. 
Dorothy Day (1897-1980) co-founded the Catholic Worker movement and newspaper with Peter Maurin in 1933 and served as its spiritual leader until her death in 1980. Pope Francis recently included her in a short list of exemplary Americans together with Abraham Lincoln, Martin Luther King, Jr., and Thomas Merton in his address before the United States Congress.

The Jane Lunin Perel Poetry & Fiction Series featuring Russell Banks
Providence College is delighted to announce that the Jane Lunin Perel Poetry and Fiction Series returns for its third year on Wednesday, November 7, at 7 p.m. with a reading by acclaimed fiction writer Russell Banks. Planned in collaboration with the Providence College Department of English, this annual series is made possible by the generosity of Morton L. Perel, D.D.S., M.Sc.D. Reception to follow.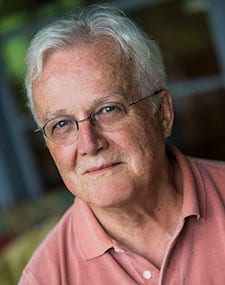 Author of more than a dozen novels and short story collections, Russell Banks has made a life's work of charting the causes and effects of the terrible things "normal men" can and will do.  His novels Affliction and The Sweet Hereafter were adapted into feature films which received widespread critical acclaim, including a Best Supporting Actor Academy Award for James Coburn for Affliction. He has contributed poems, stories, and essays to The Boston Globe Magazine, Vanity Fair, The New York Times Book Review, Esquire, Harper's, and others. Banks has won numerous awards for his writing, including the Ingram Merrill Award, Guggenheim and NEA grants, and a St. Lawrence Prize for fiction; he has been awarded honorary doctorates from seven colleges and universities; and he was inducted into the New York State Writers Hall of Fame in 2014.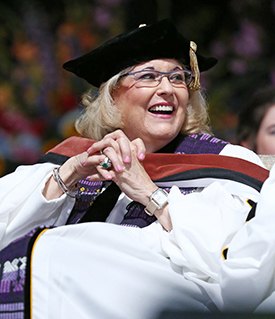 About the Jane Lunin Perel Poetry and Fiction Series
Professor emerita Jane Lunin Perel '15Hon. arrived to teach English and creative writing at Providence College in 1971. She has stretched students' creative capacities ever since. She also led the initiative to establish the College's Women's Studies Program in 1994, serving as its first director, and was devoted to it and the Department of English until her retirement in 2014. The annual Jane Lunin Perel Poetry and Fiction Series "celebrates a life in which poetry and fiction synthesize the imagination with the Divine."

Chard deNiord on New Hampshire Public Radio remembering
NH Poet and  Former U.S. Poet Laureate Donald Hall.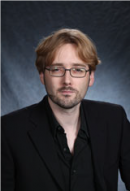 Russell Hillier Receives Outstanding Faculty Scholar Award
Dr. Russell M. Hillier, associate professor of English, has been awarded Providence College's first Outstanding Faculty Scholar Award. The honor, which will be awarded annually, is given to a tenured faculty member who demonstrates the highest standards in research, scholarship, and contributions to his/her field.  He is the author of two books, Milton's Messiah: The Son of God in the Works of John Milton (Oxford University Press, 2011) and Morality in Cormac McCarthy's Fiction: Souls at Hazard (Palgrave Macmillan, 2017), and his journal contributions include essays on John Donne, George Herbert, John Milton, Samuel Taylor Coleridge, John Keats, Fyodor Dostoevsky, and Cormac McCarthy.
Faculty Accomplishments
Chard deNiord's book I Would Lie To You If I Could was published by University of Pittsburgh Press, 2018.  I Would Lie To You If I Could contains interviews with nine eminent contemporary American poets (Natasha Trethewey, Jane Hirshfield, Martín Espada, Stephen Kuusisto, Stephen Sandy, Ed Ochester, Carolyn Forche, Peter Everwine, and Galway Kinnell) and James Wright's widow Anne, presents conversations with a vital cross section of poets representing a variety of ages, ethnicities, and social backgrounds.  Chard is the poet laureate of Vermont and author of six books of poetry, most recently Interstate and The Double Truth. He also edited a book of essays and interviews with seven senior American poets (Galway Kinnell, Donald Hall, Maxine Kumin, Jack Gilbert, Ruth Stone, Lucille Clifton, Robert Bly) titled Sad Friends, Drowned Lovers, Stapled Songs: Conversations and Reflections on Twentieth-Century American Poets. deNiord is a professor of English and creative writing at Providence College and a trustee of the Ruth Stone Trust.
Tuire Valkeakari's book Precarious Passages: The Diasporic Imagination in Contemporary Black Anglophone Fiction was published by University Press of Florida (2017). Tuire analyzes the writing of Toni Morrison, Caryl Phillips, Lawrence Hill, and other contemporary novelists of African descent. She shows how their novels connect with each other and with defining moments in the transatlantic experience, most notably the Middle Passage and enslavement. Tuire Valkeakari is professor of English at Providence College and the author of Religious Idiom and the African American Novel, 1952-1998.
Russell Hillier's book Morality in Cormac McCarthy's Fiction: Souls at Hazard was published by Palgrave Macmillan (2017).  Russell is the author of Milton's Messiah (2011) and has published numerous scholarly articles on William Shakespeare, John Milton, John Donne, George Herbert, Samuel Taylor Coleridge, John Keats, Fyodor Dostoevsky, and Cormac McCarthy.
Eric Bennett's book Workshops of Empire: Stegner, Engle, and American Creative Writing During the Cold War was published by University of Iowa Press (2015).  Eric is the author of A Big Enough Lie, and his writing has appeared in A Public Space, New Writing, Modern Fiction Studies, Blackwell-Wiley's Companion to Creative Writing, The Chronicle of Higher Education, VQR, MFA vs. NYC, and Africana.
Chard deNiord named Vermont Poet Laureate. Chard succeeded Sydney Lea as Vermont Poet Laureate on November 2, 2015. Poet Laureate is a four-year appointment made by the Governor based on the recommendation of a distinguished panel. Read more.