Creative Writing Alumni
Kristina Reardon '08
Assistant Director of the Writing Center at the University of Connecticut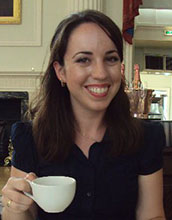 Since graduating from Providence College in 2008 with majors in English and Spanish and a minor in Women's Studies, Kristina has gone on to earn an M.F.A. in creative writing at the University of New Hampshire (2010). She has published several short stories and non-fiction pieces, but she really found her voice by amplifying others' (often underrepresented) voices through the act of translation. She was awarded a Fulbright grant and spent 2010 – 11 in Ljubljana, Slovenia, translating short stories written by women since Slovenia declared independence from the former Yugoslavia. Since graduating, Kristina has published over two dozen translations from both Slovenian and Spanish in journals such as World Literature Today, Slovene Studies, and Words Without Borders. Her translation of a flash fiction piece by Lili Potpara will be reprinted in the forthcoming Norton Anthology Flash Fiction International.
Kristina is currently the assistant director of the Writing Center at the University of Connecticut, where she is pursuing a Ph.D. in comparative literary and cultural studies. She also earned an M.A at UConn in 2013, as well as graduate certificates in women's studies, human rights studies, and college instruction. Her doctoral research has been supported by summer institute fellowship from the National Endowment for the Humanities, which brought her to Cincinnati to study World War I, and by a grant from the Tinker Foundation for Latin American Studies, which brought her to Buenos Aires to study translation. At UConn, she has been awarded the Susan Porter Benson Research Award in Women's Studies; the Bilokur Award for Slavic Studies; Aetna Works-in-Progress grant for her unpublished short story collection; and the Creative Non-Fiction Graduate Award from the Creative Writing Program. She has scholarly articles forthcoming on women's writing during World War I and on post-conflict literary responses to the Balkan wars of the 1990s.
Matt Daly '02 
Instructional Leader at Morris School District [New Jersey]
I remember walking into Prof. deNiord's classroom on one of the upper floors in the front of Harkins Hall. We started with reading modern and classical works and began the process of work shopping our own poems. For all my youthful ignorance, and lack of nuance, it would have been easy to knock me down, or humble me through some form of embarrassment, but that isn't what happened. Prof. DeNiord, in his calm manner and soft voice, allowed me to reach those understandings through self-reflection and trust. We would walk together between classes, talk about my work, and he showed a genuine interest in me as an artist. He asked me questions, and gave me the confidence that this was something I could be good at, if I put in the hard work necessary. He was a mentor, and someone who I saw not as an evaluator, but an advocate.
The program at PC is loaded with talented writers, but more importantly, it is supported by talented and empathetic teachers. Students interested in this major, or these classes, will be subjected to a thought-provoking, rigorous, and emotionally safe environment that prizes their development as artists.
My writing life has been incredibly fruitful. I have published short stories, written educational blogs, curated my fiction and poetry website, completed a novel, and written thousands of pages of emails and papers. More importantly, I see and experience the world around me differently because of my writing background. The job of the writer is to discern some truth from the world around them, this requires contemplation, and work. I have Providence College to thank for the opportunity to open my mind, and begin sharing it with the world.
Stephan Delbos '05
Lecturer, Charles University [Prague] and Anglo-American University [Prague]
Editor, B O D Y
I've been completely pleased with my decision to take a minor in Creative Writing (the major didn't exist back then), and then go onto my MFA in Creative Writing (and I'm currently working on my Ph.D. in American literature). Majoring in Creative Writing is unlikely to lead you directly to a six-figure job, but it is a very valuable experience for a writer. It essentially directs you and focuses you on your writing, on the craft of writing, and on the tradition. It's a period of four years where you can shut out most of the distractions that adults have to deal with to focus on your writing in an environment where experimentation and risk-taking are encouraged.
You have a team of well-published writers who are there to guide you and consider your work. That's not impossible to encounter outside of school, but it's far more difficult to encounter, and the same amount of feedback and knowledge would take decades to acquire. And in today's academic job market, if one were to take a B.A. or an M.F.A in Creative Writing then balance that with an M.A. or Ph.D in literature, you'd be a well-rounded and attractive individual for teaching positions. In other fields such as marketing and communications, having a facility with language and being able to communicate clearly are very highly valued. But above all, the degree in Creative Writing allows you to fast-track your writing and critical thinking skills.
Benjamin Russell '04
Teacher and Chair, La Salle Academy English Department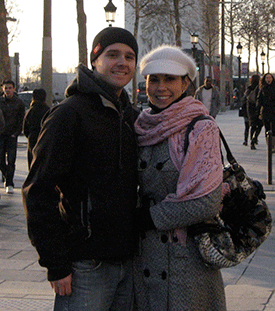 Of course I enjoyed all of my English classes while I was studying at PC, but I was drawn particularly to ones on modern/contemporary literature and creative writing. I took courses on Hemingway, Contemporary Poetry, Prose Poetry, Literary Journalism and others. But, I was also given the freedom and encouragement to create my own courses (including an independent study on famous Polish poets such as Czeslaw Milosz, Wislawa Szymborska, and Zbigniew Herbert). The three-hour a week classes were important, but my experiences beyond the classrooms in Feinstein or Harkins made me who I am as a writer today.
During my freshman and sophomore years I wrote for PC's newspaper, The Cowl, but then spent my final two years at school as student editor of the English department's literary magazine, The Alembic. I felt that my time as editor (and working closely with Chard deNiord) really made me a better writer, reader, critic, and teacher. Not only I am grateful for everything Chard taught me, but I am also grateful for the wisdom and guidance of Jane Lunin Perel and Peter Johnson. They all inspired and encouraged me to study what I loved: poetry and writing. In and out of the classroom they were very patient with me as a young man and a young writer, helping me find my own style and my own voice and cultivating my writing skills. My relationships with each of them went far beyond that of the teacher and the student. They were mentors, or more accurately, I viewed our bonds as that of a master and his/her apprentice. I also credit them as model teachers for me. Each had their own styles of teaching, but they all focused on and cared for their pupils as if they were the most important things in world. I can't thank them enough."